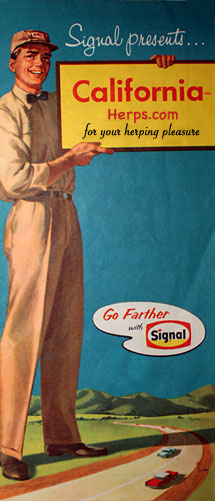 These are some of the new pictures, sounds, and video that I have added to the site in 2017.
Most of these come from other photographers who I want to thank. I don't list everything that I add myself.

The links lead to pages which include thumbnails and other links to the new content. You will have to search the page to find them, but most of them are usually put at the bottom of the gallery of thumbnails.
The most recent additions to the site are on top of the list below.
The list of additions to the site in 2016 can be seen here.



April


Keith Condon contributed the first pictures of a Sonoran Lyresnake from California that I have on the site so far. It was from eastern Imperial County and had a divided anal plate.

Spencer Riffle sent in an amazing series of pictures of a female Wandering Salamander brooding her eggs over a period of three months, until they hatched.

Ryan Sikola sent in a picture of a Northern California Legless Lizard from the population found in the southern Sierra Nevada in Tulare County.

Chad Lane sent in some pics of a Scott Bar Salamander.

A Valley Gartersnake from the valley from Brett Burch.

Pics from Jared Heald: A screaming red Coast Gartersnake, a Forest Sharp-tailed Snake, a Santa Cruz zonata with read on the head, and a weird Northern Pacific Rattlesnake from the southern Sierra Nevada.

Stuart Young contributed pictures of a Baja California Coachwhip from San Diego County and some pictures from Baja California of a Baja Collared Lizard, a Southern Sagebrush Lizard, and two Baja California Spiny Lizards.

Rachel Bennett sent in Michael McCormick's picture of a very cool hypomelanistic San Diego Striped morph California Kingsnake from San Diego County.

Dan Schroeter contributed some pictures of a nice adult male Desert Spiny Lizard from near Palm Springs.

Dan Boyd contributed some nice pictures of courting male and female San Diego Alligator Lizards.

Ryan Sikola contributed a short video clip of a California Mountain Kingsnake eating a Western Red-tailed Skink that he observed in the Greenhorn Mountains.



March


Stuart Young contributed a bunch of great pictures of herps and habitats from Baja California - Baja California Ratsnake, Baja California Rattlesnake, California Lyresnake, Variable Sandsnake, a couple of Rosy Boas, Spotted Leaf-nosed Snake, a Mid Baja Gopher Snake, some Chuckwallas, a Cedros Island Horned Lizard, and intergrade banded geckos.

An anonymous contributor sent in pictures of what I have identified as a San Diego Night Snake from Santa Barbara County, close to where the two subspecies meet.

Christian Gingerich contributed a picture of an adult San Diego Banded Gecko.

Chad Lane contributed pictures of a Yellow-eyed Ensatina x Sierra Nevada Ensatina intergrade from Calaveras County.

Zachary Lemon contributed a picture of a reddish Northern Pacific Rattlesnake from the southern Sierra Nevada.

Lou Silva contributed pictures of Chuckwallas found in Arizona, including a great one of an adult posing on a rock decorated with petroglyphs.

Zach Lim sent in pictures of some Pacific Ring-necked Snakes found in San Francisco. I don't know how they can afford the rent....

Seth Erickson sent in some pictures of unusually-colored Western Red-backed Salamanders from Washington.

Doing a little early Spring cleaning, I simplified the home page and changed the drop-down menus so that the menus on all of the pages that pertain to California Herps site are the same and pages that are not specifically about California Herps have a different menu - inlcuding all the non-CA lists and the complete lists of snakes, lizards, frogs, etc. You might have to refresh your browser to see the new menus. Now you have to click on the "Beyond California" link to get into that Non-Cal world and find those links, but everything is still there. It has always bothered me that a lot of irrelevant pages were linked to the Cal Herps site, so now they're not... sort of. There really should be two web sites but I don't want to pay for that so this is the best way I could figure out to keep them separated.

I have added a list of Australian herps I photographed during an amazing trip last Fall (Spring down under.) I've got a few more snakes and turtles to add, but it's mostly finished.

The new herping regulations are out and copied here. There are not a lot of changes to herps that can be taken, but the taxonomy has been changed considerably.



February


Jared Heald sent in a picture of a Sierra Newt from Shasta County.

An anonymous contributor sent in a picture of a very dark California Alligator Lizard from Lake Folsom.

Alex Bairstow sent in pics of a weird hybrid Large-blotched x Monterey Ensatina.

Dave Zeldin sent in a picture of an adult Western Spadefoot from near Lake Matthews in Riverside County.

Huck Triggs contributed pictures of a California Kingsnake, a San Diego Nightsnake, and some San Bernardino Ring-necked Snakes.

Jay Keller contribute pictures of a Large-blotched Ensatina found under the same log with a Monterey Ensatina on Mt. Palomar, and side-by-side adult and juvenile Garden Slender Salamanders from San Diego County.

Isaac Chellman contributed a bunch of pictures of Southern Mountain Yellow-legged Frogs from the Sierra Nevada Mountains, a part of their range from which I had no pictures, until now.



January



Ryan Sikola sent in pictures of some hard to find and hard to identify San Simeon Slender Salamanders.

Jared Heald sent in some pictures of Santa Cruz Long-toed Salamanders showing eating and foraging behavior, and pictures of an Aroboreal Salamander and a Sharp-tailed Snake.

Luke Talltree sent in some pictures of a Shasta Salamander he photographed in late December.

Brad Hollingsworth sent me a voucher picture from the San Diego Natural History Museum of one of the recently-described Northern Italian Wall Lizards that have colonized a neighborhood in San Marcos.

Mark Gary took the monthly California Tiger Salamander breeding pond picture and also sent in photos of California Tiger Salamander eggs that were laid in the pond in December.