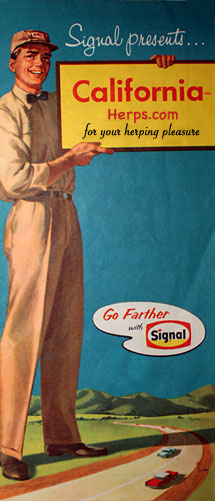 These are some of the new pictures, sounds, and video that I have added to the site in 2019.
Most of these come from other photographers who I want to thank. I'm too lazy to list everything that I add myself.

The links lead to pages which include thumbnails and other links to the new content. You will have to search the page to find them, but most of them are usually put at the bottom of the gallery of thumbnails of the featured animal.
The most recent additions to the site are on top of the list found below.
The list of additions to the site in 2018 can be seen here.



April


Sarah Ainsworth contributed a picture of a bright orange and yellow Western Side-blotched Lizard from the Palos Verdes Peninsula.

Brock Dolman contributed pictures of a Common House Gecko and a California Kingsnake from Baja California Sur.



March


Mark Gary contributed photos of Large-blotched Ensatina and Monterey Ensatina from San Diego County.

Ivan Vershynin sent in a picture of an odd aberrant morph California Kingsnake from Orange County.
I've added two new subspecies of banded gecko that I didn't have previously - Utah Banded Gecko, from Zachary Cava, and San Lucan Banded Gecko, from Barry Mastro.

I have copied the new California fishing regulations pertaining to reptiles and amphibians. There are a lot of changes to the common and Latin names. It looks like they have reverted to the older names used on the 2016 list, ignoring the new names used in 2017 and 2018.

Zachary Cava contributed pictures of a shrike-impaled Long-tailed Brus Lizard, some Woodhouse's Toad eggs and tadpoles, a Mohave Fringe-toed Lizard, and a Texas Spiny Softshell.

Grayson Sandy sent in pictures of a California Tiger Salamander breeding pond and a huge mass of eggs laid together on a single stalk of vegetation.

Adam Clause sent in pictures of some Western Spadefoots from Ventura County. With all the rain this year, it's shaping up to be a good year for breeding amphibians.





February


Richard L. P. Custer let me use a picture of an Arboreal Salamander he observed in Mendocino County. This is the first picture I have of a wild arboreal from the that county. They're either rare up the north coast, or maybe because there aren't as many people up there, they just aren't seen as much as they are in other places.

Noah Morales contributed some salamander pics from the Sierra Nevada foothills - Sierra Newt, and Limestone Salamander.

When I saw a picture in Herp Review last June of a crazy looking Valley Gartersnake found in the Sacramento Valley, I couldn't believe it. Now Alex Fulton with the U.S.G.S. has sent me even more pictures of the snake to use on the site. It doesn't look like any genetically aberrant form I can think of. It has pale green and yellow coloring and a wash of rusty red on the sides. Crazier still is that they found others in the same area, including one found a year earlier which is also shown on the page.

Chris Rombough observed hundreds of Rough-skinned Newts on a road on a rainy night in Oregon and took pictures of a few that were eating earthworms. I don't know why earthworms come out onto wet roads and sidewalks, but obviously the newts did so to take advantage of the worm buffet.




January


John Buckman sent in some pictures of the dark and striped form of California Lyresnake found in the Pisgah lava flow that I had read about in Robert Stebbins' 2003 field guide, but until now, over 15 years later, I had never seen in person or in pictures.

Grayson Sandy sent in some pics of Sierra Treefrog eggs and breeding habitat.

Chris Rombough contributed pictures and video of a water strider in a pond in Oregon eating an Oregon Spotted Frog hatchling tadpole. I had no idea striders ate tadpoles.