This dangerously venomous snake occurs throughout California, excluding the southern deserts. It lives in a wide variety of
habitats - mountains, forests, chaparral, sagebrush, grasslands, woodlands - and and often occurs in close proximity to
humans. It can be active day or night.

Check the range map below to determine which subspecies occurs in your area.

---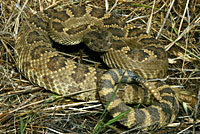 Southern Pacific Rattlesnake Great Basin Rattlesnake Northern Pacific Rattlesnake
Crotalus oreganus helleri Crotalus oreganus lutosus Crotalus oreganus oreganus